| | | | |
| --- | --- | --- | --- |
| | Query: white-bellied sea eagle | Result: 10th of 44 | |
Subject:
White-bellied sea eagle (Haliaeetus leucogaster)

Poster:
Shahril (different_world_06@hotmail.com)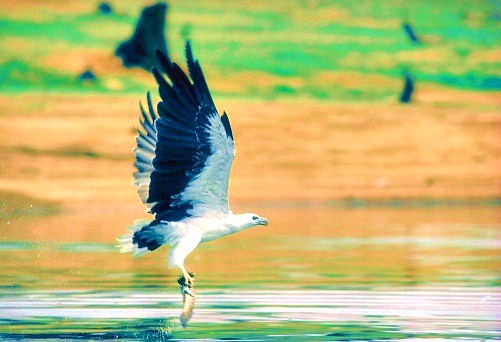 Resolution: 501x342 File Size: 53626 Bytes Date: 2018:11:07 01:47:31 Upload Date: 2018:11:07 03:56:27

The white-bellied sea eagle (Haliaeetus leucogaster) is a large bird of prey in the family Accipitridae found throughout India and through southeast Asia to Australia on coasts and major waterways.

This large eagle is very distinctive with its white head, breast underwing coverts and tail. The upperparts are grey and the black underwing flight feathers contrast with the white coverts. The tail is short and wedge-shaped as with its relatives, the bald eagle and white-tailed eagle.

The juvenile is buff where the adult is white. It takes several years to reach adult plumage. This eagle flies with wings held in a shallow V.

As with other Haliaeetus sea eagles, their diet is mainly fish, however it will take other prey, including sea snakes and carrion.

It nests, usually close to other white-bellied sea eagles, in large nests in trees or on coastal cliffs. Normally two eggs are laid.
white-bellied sea eagle
10/44
^o^ Animal Pictures Archive for smart phones ^o^