| | | | |
| --- | --- | --- | --- |
| | Query: george albert boulenger | Result: 8th of 23 | |
Subject:
Uroplatus phantasticus (Baweng satanic leaf gecko, Satanic leaf-tailed gecko)

Poster:
Wiki Photos (---@---.---)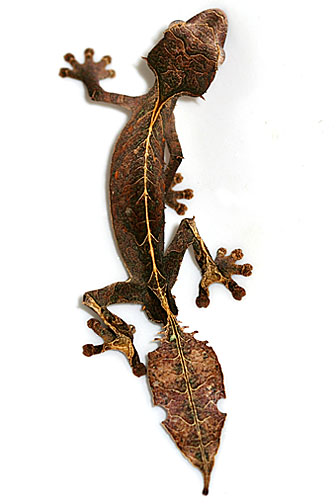 Resolution: 336x504 File Size: 65809 Bytes Date: 2006:09:09 20:29:41 Camera: Canon EOS DIGITAL REBEL XT (Canon) F number: f/5.0 Exposure: 1/200 sec Focal Length: 100/1 Upload Date: 2017:02:14 15:08:22

Description
English: Male Uroplatus phantasticus - satanic / fantastic leaf-tail gecko
Author Alfeus Liman (Firereptiles https://en.wikipedia.org/wiki/User:Firereptiles at en.wikipedia)
Source: https://commons.wikimedia.org/wiki/File:ALiman_phantasticus.jpg

Uroplatus phantasticus, the Baweng satanic leaf gecko, is a species of gecko indigenous to the island of Madagascar. First described in 1888 by George Albert Boulenger, U. phantasticus is the smallest in body of the Uroplatus geckos, though there is an ongoing debate as to whether one of its cousins, U. ebenaui, is smaller because of its shorter tail. It may also be known as the eyelash leaf-tailed gecko or the fantastic leaf-tailed gecko. Order: Squamata, Suborder: Gekkota, Family: Gekkonidae, Genus: Uroplatus, Species: Uroplatus phantasticus Boulenger, 1888.
george albert boulenger
8/23
^o^ Animal Pictures Archive for smart phones ^o^