| | | | |
| --- | --- | --- | --- |
| | Query: carcharodon carcharias | Result: 10th of 58 | |
Subject:
Mackerel Sharks (Order: Lamniformes) - Wiki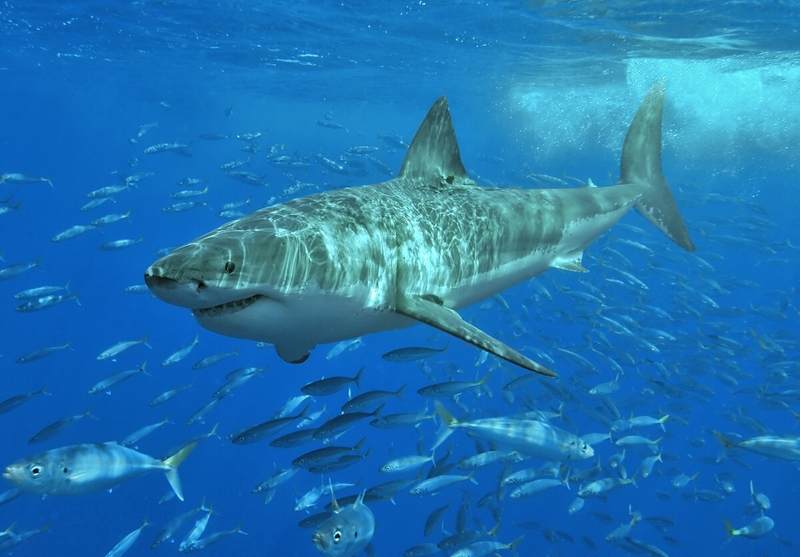 Resolution: 1200x835 File Size: 670776 Bytes Date: 2006:08:12 11:18:28 Camera: NIKON D70s (NIKON CORPORATION) F number: f/4.0 Exposure: 10/2500 sec Focal Length: 240/10 Upload Date: 2007:09:19 10:51:39

Lamniformes
From Wikipedia, the free encyclopedia

[Photo] Great white shark, Carcharodon carcharias. Date August 2006. Photo by Terry Goss, Copyright 2006. Taken at Isla Guadalupe, Mexico, August 2006. Shot with Nikon D70s in Ikelite housing, in natural light. Animal estimated at 11-12 feet (3.3 to 3.6 m) in length, age unknown. More photos can be found at (http://www.flickr.com/photos/pterantula/sets/). Author (C) 2006 Terry Goss. License: GNU Free Documentation License.

Lamniformes is an order of sharks, also known as mackerel sharks (which may also be used to refer to the sub-group of Lamniformes, Lamnidae). It includes some of the most familiar species of sharks, such as the great white shark, and some extremely rare types, such as the megamouth shark.

Characteristics of the order include: two dorsal fins, an anal fin, five gill slits, eyes without nictitating membrane, and mouth extending behind the eyes.

Classification

Family Alopiidae (thresher sharks)
Alopias
Pelagic thresher, Alopias pelagicus Nakamura, 1935
Bigeye thresher, Alopias superciliosus (Lowe, 1841)
Thintail thresher, Alopias vulpinus (Bonnaterre, 1788)
Alopias sp.

Family Cetorhinidae (basking shark)
Cetorhinus
Basking shark, Cetorhinus maximus (Gunnerus, 1765)

Family Lamnidae (mackerel sharks)
Carcharodon
Great white shark, Carcharodon carcharias (Linnaeus, 1758)
Megatooth shark, Carcharodon megalodon Agassiz, 1843 Extinct
Isurus
Shortfin mako, Isurus oxyrinchus Rafinesque, 1810
Longfin mako, Isurus paucus Guitart Manday, 1966
Lamna
Salmon shark, Lamna ditropis Hubbs & Follett, 1947
Porbeagle shark, Lamna nasus (Bonnaterre, 1788)

Family Megachasmidae (megamouth shark)
Megachasma
Megamouth shark, Megachasma pelagios Taylor, Compagno & Struhsaker, 1983

Family Mitsukurinidae (goblin shark)
Mitsukurina
Goblin shark, Mitsukurina owstoni Jordan, 1898

Family Odontaspididae (Raggedtooths)
Carcharias
Grey nurse shark or sand tiger shark, Carcharias taurus Rafinesque, 1810
Indian sand tiger, Carcharias tricuspidatus Day, 1878
Odontaspis
Smalltooth sand tiger or bumpytail raggedtooth, Odontaspis ferox (Risso, 1810)
Bigeye sand tiger, Odontaspis noronhai (Maul, 1955)

Family Pseudocarchariidae (crocodile shark)
Pseudocarcharias
Crocodile shark, Pseudocarcharias kamoharai (Matsubara, 1936)

http://en.wikipedia.org/wiki/Lamniformes


The text in this page is based on the copyrighted Wikipedia article shown in above URL. It is used under the GNU Free Documentation License. You may redistribute it, verbatim or modified, providing that you comply with the terms of the GFDL.
carcharodon carcharias
10/58
^o^ Animal Pictures Archive for smart phones ^o^