| | | | |
| --- | --- | --- | --- |
| | Query: Eurynorhynchus pygmeus | Result: 8th of 16 | |
Subject:
Sandpiper (Family: Scolopacidae) - wiki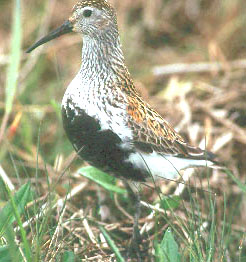 Resolution: 246x262 File Size: 36535 Bytes Date: 2003:02:21 09:54:42 Camera: () Upload Date: 2007:08:27 00:32:29

Scolopacidae
From Wikipedia, the free encyclopedia

[Photo] Dunlin, Calidris alpina from the U.S. Fish and Wildlife Service. Creator: John & Karen Hollingsworth. Yukon Delta National Wildlife Refuge, Alaska. Date Issued: February 21 2003

The Scolopacidae are a large family of waders, (known as shorebirds in North America). Many of the smaller species are often called "sandpipers", especially members of genera Calidris, Tringa and Actitis.

This large family is often further subdivided into groups of similar birds. These groups do not necessarily consist of a single genus, but as presented here they do form distinct monophyletic evolutionary lineages (Thomas et al, 2004). The groups, with species numbers in parentheses, are:

Curlews (8, genus Numenius)
Whimbrel Numenius phaeopus
Slender-billed Curlew Numenius tenuirostris - critically endangered, possibly extinct (early 21st century?)
Eurasian Curlew Numenius arquata
Long-billed Curlew Numenius americanus
Far Eastern Curlew Numenius madagascariensis
Little Curlew Numenius minutus
Eskimo Curlew Numenius borealis - critically endangered, possibly extinct (early 2000s?)
Bristle-thighed Curlew Numenius tahitiensis

Upland Sandpiper (1, genus Bartramia)
Upland Sandpiper Bartramia longicauda

Godwits (4, genus Limosa)
Black-tailed Godwit, Limosa limosa
Hudsonian Godwit, Limosa haemastica
Bar-tailed Godwit, Limosa lapponica
Marbled Godwit, Limosa fedoa

Dowitchers (3, genus Limnodromus)
Short-billed Dowitcher, Limnodromus griseus
Long-billed Dowitcher, Limnodromus scolopaceus
Asiatic Dowitcher, Limnodromus semipalmatus

Snipe and woodcocks (about 25, genera Coenocorypha, Lymnocryptes, Gallinago and Scolopax)
Chatham Island Snipe Coenocorypha pusilla
Auckland Island Snipe Coenocorypha (aucklandica) aucklandica
North Island Snipe Coenocorypha (aucklandica) barrierensis
Snares Island Snipe Coenocorypha (aucklandica) huegeli
South Island Snipe Coenocorypha (aucklandica) iredalei
Antipodes Island Snipe Coenocorypha (aucklandica) meinertzhagenae
Forbes's Snipe Coenocorypha chathamica
Campbell Island Snipe Coenocorypha sp
Viti Levu Snipe Coenocorypha miratropica
New Caledonia Snipe Coenocorypha sp.
Norfolk Island Snipe Coenocorypha sp.
Jack Snipe, Lymnocryptes minimus
Solitary Snipe, Gallinago solitaria
Latham's Snipe, Gallinago hardwickii
Wood Snipe, Gallinago nemoricola
Pintail Snipe, Gallinago stenura
Swinhoe's Snipe, Gallinago megala
African Snipe, Gallinago nigripennis
Madagascar Snipe, Gallinago macrodactyla
Great Snipe, Gallinago media
Common Snipe, Gallinago gallinago
Wilson's Snipe, Gallinago delicata
South American Snipe, Gallinago paraguaiae
Noble Snipe, Gallinago nobilis
Giant Snipe, Gallinago undulata
Fuegian Snipe, Gallinago stricklandii
Andean Snipe, Gallinago jamesoni
Imperial Snipe, Gallinago imperialis

Eurasian Woodcock, Scolopax rusticola
Amami Woodcock, Scolopax mira
Bukidnon Woodcock, Scolopax bukidnonensis
Dusky Woodcock, Scolopax saturata
Sulawesi Woodcock, Scolopax celebensis
Moluccan Woodcock, Scolopax rochussenii
American Woodcock, Scolopax minor

Ruff (1, genus Philomachus)
Ruff Philomachus pugnax

Phalaropes (3, genus Phalaropus)
Red Phalarope, Phalaropus fulicaria
Red-necked Phalarope, Phalaropus lobatus
Wilson's Phalarope, Phalaropus tricolor

Shanks and tattlers (16, genera Xenus, Actitis, and Tringa which now includes Catoptrophus and Heteroscelus)
Terek Sandpiper, Xenus cinereus
Common Sandpiper, Actitis hypoleucos
Spotted Sandpiper, Actitis macularia
Green Sandpiper, Tringa ochropus
Solitary Sandpiper, Tringa solitaria
Gray-tailed Tattler, Tringa brevipes - formerly Heteroscelus brevipes
Wandering Tattler, Tringa incana - formerly Heteroscelus incanus
Spotted Redshank, Tringa erythropus
Greater Yellowlegs, Tringa melanoleuca
Common Greenshank, Tringa nebularia
Willet, Tringa semipalmata - formerly Catoptrophorus semipalmatus
Lesser Yellowlegs, Tringa flavipes
Spotted Greenshank, Tringa guttifer
Marsh Sandpiper, Tringa stagnatilis
Common Redshank, Tringa totanus
Wood Sandpiper, Tringa glareola
Grey-tailed Tattler, Tringa brevipes
Wandering Tattler, Tringa incana

Polynesian sandpipers (1 extant, 3-5 extinct, genus Prosobonia)

Calidrids and turnstones (about 25, mostly in Calidris which might be split up into several genera. Other genera currently accepted are Aphriza, Eurynorhynchus, Limicola, Tryngites, and Philomachus, in addition to the 2 Arenaria turnstones)
Surfbird, Calidris virgatus / Aphriza virgata
Great Knot, Calidris tenuirostris
Red Knot, Calidris canutus
Semipalmated Sandpiper, "Calidris" pusilla
Little Stint, "Calidris" minuta
Least Sandpiper, "Calidris" minutilla
White-rumped Sandpiper, "Calidris" fuscicollis
Baird's Sandpiper, "Calidris" bairdii
Dunlin, "Calidris" alpina
Red-necked Stint, "Calidris" ruficollis
Long-toed Stint, "Calidris" subminuta
Pectoral Sandpiper, "Calidris" melanotos
Sanderling, "Calidris" alba ("Crocethia alba")
Western Sandpiper, "Calidris" mauri
Purple Sandpiper, "Calidris" maritima
Rock Sandpiper, "Calidris" ptilocnemis
Temminck's Stint, "Calidris" temminckii
Buff-breasted Sandpiper, "Tryngites" subruficollis
Ruff, Philomachus pugnax
Broad-billed Sandpiper, Philomachus falcinellus / Limicola falcinellus ("Erolia falcinella")
Sharp-tailed Sandpiper, Philomachus acuminatus / Calidris acuminata
Stilt Sandpiper, Micropalama himantopus / Calidris himantopus
Spoon-billed Sandpiper, Eurynorhynchus pygmeus
Curlew Sandpiper, ?Calidris ferruginea
Ruddy Turnstone, Arenaria interpres
Black Turnstone, Arenaria melanocephala

The majority of species eat small invertebrates picked out of the mud or soil. Different lengths of bills enable different species to feed in the same habitat, particularly on the coast, without direct competition for food.

http://en.wikipedia.org/wiki/Scolopacidae


The text in this page is based on the copyrighted Wikipedia article shown in above URL. It is used under the GNU Free Documentation License. You may redistribute it, verbatim or modified, providing that you comply with the terms of the GFDL.
Eurynorhynchus pygmeus
8/16
^o^ Animal Pictures Archive for smart phones ^o^