| | | | |
| --- | --- | --- | --- |
| | Query: Chinese soft-shelled turtle | Result: 3rd of 5 | |
Subject:
Chinese Soft-shelled Turtle (Pelodiscus sinensis) - Wiki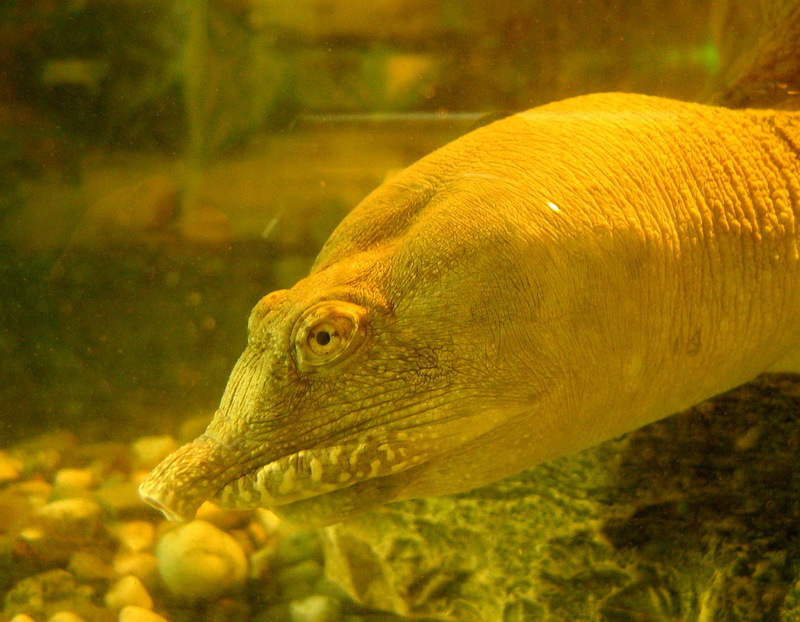 Resolution: 1359x1056 File Size: 568515 Bytes Date: 2005:10:08 13:49:37 Camera: Canon PowerShot A80 (Canon) F number: f/2.8 Exposure: 1/20 sec Focal Length: 250/32 Upload Date: 2007:11:07 10:43:51

Chinese Soft-shelled Turtle
From Wikipedia, the free encyclopedia

[Photo] Chinese Softshell Turtle (Pelodiscus sinensis); ????łwiak chi??ski. Date 8 October 2005. Author Bastet78 (http://commons.wikimedia.org/wiki/User:Bastet78).

Permission is granted to copy, distribute and/or modify this document under the terms of the GNU Free Documentation License, Version 1.2 or any later version published by the Free Software Foundation; with no Invariant Sections, no Front-Cover Texts, and no Back-Cover Texts. A copy of the license is included in the section entitled "GNU Free Documentation License".



The Chinese Soft Shelled Turtle is a species from the genus Pelodiscus from family Trionychidae. Turtle Soup is made from this species.

Distribution
China, Taiwan, Korea, Manchuria, North Vietnam, Japan. Also, after being introduced to new environments, can be found in Singapore, Thailand, Batan Islands and California.

Reproduction
17 to 28 eggs are laid per clutch, two to four times a year.

Do not drop them or let them get hit, injuries like this and shell fungus kill these turtles very easily.

http://en.wikipedia.org/wiki/Chinese_Soft-shelled_Turtle


The text in this page is based on the copyrighted Wikipedia article shown in above URL. It is used under the GNU Free Documentation License. You may redistribute it, verbatim or modified, providing that you comply with the terms of the GFDL.
Chinese soft-shelled turtle
3/5
^o^ Animal Pictures Archive for smart phones ^o^