| | | | |
| --- | --- | --- | --- |
| | Query: African long-tailed shrike | Result: 1st of 1 | |
Subject:
African long-tailed shrike, magpie shrike (Urolestes melanoleucus)

Poster:
Wiki Photos (---@---.---)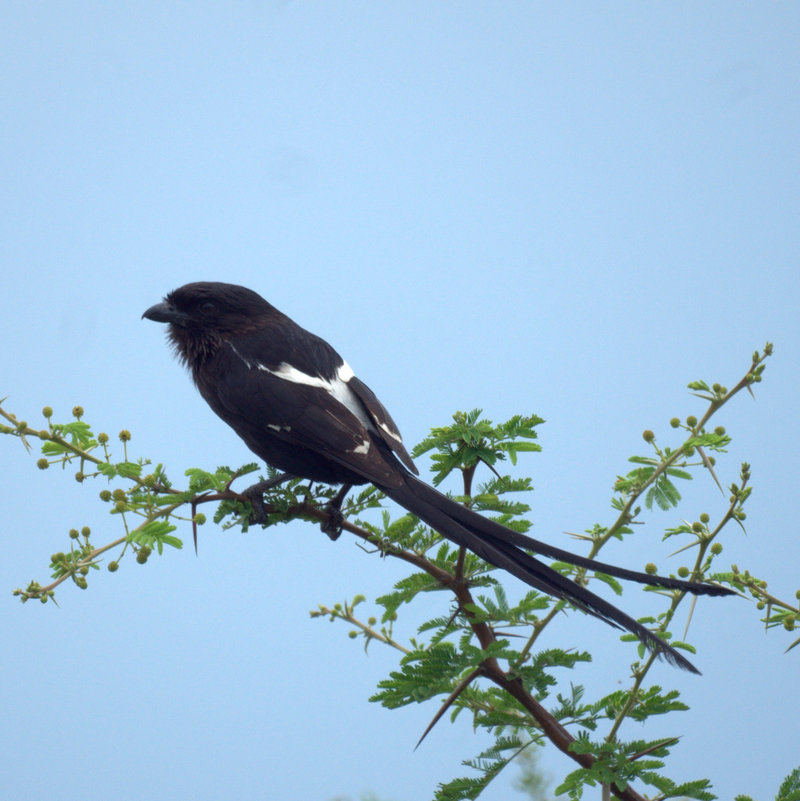 Resolution: 2120x2122 File Size: 772098 Bytes Date: 2011:12:14 03:17:31 Camera: DSLR-A580 (SONY) F number: f/8.0 Exposure: 1/500 sec Focal Length: 5000/10 Upload Date: 2017:01:30 23:57:41

Description Urolestes melanoleucus
English: Magpie Shrike (Urolestes melanoleucus) in Limpopo Rural, South Africa.
Deutsch: Elsterwürger (Urolestes melanoleucus) in Limpopo Rural, Südafrika.
Date 14 December 2011, 03:17
Source Magpie Shrike http://www.flickr.com/photos/pazzani/6553222715/
Author New Jersey Birds http://www.flickr.com/people/42646706@N02
Source: https://en.wikipedia.org/wiki/File:Urolestes_melanoleucus_-Limpopo,_South_Africa-8.jpg

The magpie shrike (Urolestes melanoleucus), also known as the African long-tailed shrike, is a species of bird in the Laniidae family. It is monotypic within the genus Urolestes. It is native to the grasslands of eastern and southeastern Africa, where its natural habitats are dry savannah, moist savannah, and subtropical or tropical dry shrubland. It has a very wide range and is common in places, and the International Union for Conservation of Nature has assessed its conservation status as being of "least concern". Order: Passeriformes, Family: Laniidae, Synonyms: Corvinella melanoleuca.
African long-tailed shrike
1/1
^o^ Animal Pictures Archive for smart phones ^o^